The latest Arcturus polar travel brochure is hot off the press and it's certainly action-packed – with four extra pages this year to fit in all the company's exciting new land-based trips and voyages.
Inside the 2016-2017 edition are some great new expeditions in Greenland, The Faroes and Iceland and an extended range of Arctic and Antarctic voyages.  With late bookings still proving popular, the brochure also includes Antarctic voyages for winter 2015-16.
To celebrate the 15th birthday of Arcturus' sister company, Far Frontiers Travel, Fiona Brijnath has written about her top memories of her 15 all-time favourite trips  – a hard task as she has so many to choose from!
This year's mailer also includes a short survey asking clients to tell Far Frontiers Travel and Arcturus what they think about them and how both companies can serve them even better in the years to come.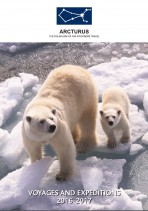 Download the new brochure here:
Arcturus Brochure 2016-17